October 2019
SOFCOT & MEDICA 2019
Welcome to SOFCOT & MEDICA 2019, November 11-13 in Paris & 18-21 in Düsseldorf.
Join us  booth #F45 & #4H16A. See you soon!!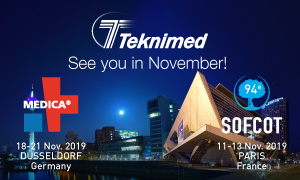 EUROSPINE 2019
Welcome to Eurospine 2019, October 16-18 in Helsinki. Come see us at booth # 35D. See you soon!!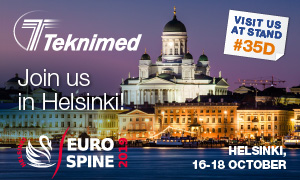 September 2019
NASS 2019
Teknimed is attending NASS 2019, September 25-28 in Chicago, IL. Come see us at booth # 3625. See you soon!!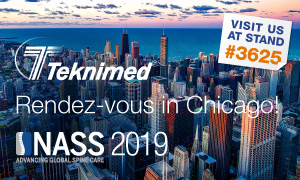 May 2019
EFORT 2019
Teknimed will be present in Lisbon- 05-07 June 2019 – Visit us Booth 2049A !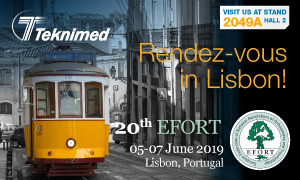 April 2019
New Clean rooms !
Teknimed, 15 new clean rooms at our new production site in L'Union!
Thanks to its new investment in the development of 400 m2 of new clean rooms, Teknimed is increasing its capacity to produce medical devices in the Controlled Atmosphere Zone to 650 m2.
The design and operational qualification (QIQOQP) for the opening of the site has been successfully audited by our notified body the BSI (quality system and microbiological audits).
This new ZAC (Controlled Atmosphere Zone) dedicated to the manufacture of medical devices has been developed and built according to the ISO 14644 standard on the design and implementation of clean rooms and good manufacturing practices (GMP) to meet the requirements. ISO 8, 7 and 5 required and international quality standards GMP.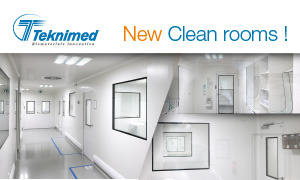 February 2019
AAOS 2019
Teknimed will be present in Las Vegas – 12-16 March 2019 – Booth 1060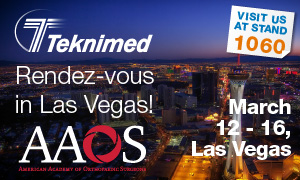 January 2019
ARABHEALTH 2019
Teknimed will be present in Dubai- 28-31 January 2019 – Booth Z2D11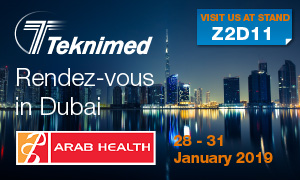 Happy New Year 2019 !
Toute l'équipe de Teknimed vous présente ses meilleurs vœux à l'occasion de la nouvelle année et vous souhaite une montagne de bonheur et toute la santé pour en profiter!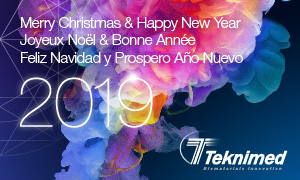 October 2018
MEDICA 2018
Teknimed will be present in Düsseldorf – 12-15 November 2018 – Booth 4H06A (French Pavillon)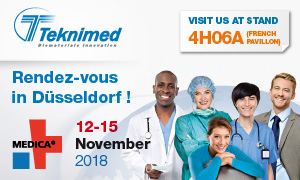 Communication on Progress 2018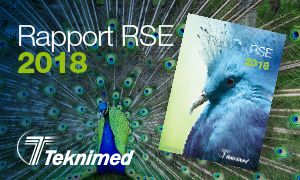 Our Reporting i
n French
A year of transition to the environment with the full update of our ERP and the expansion of our manufacturing site.